The youngest son of Phil and Kay Robertson, Jules Jeptha "Jep" Robertson, grew up in the duck blind. Utilizing these years of experience in his role as cameraman and editor for the family business, Jep is able to think like a hunter behind the camera and therefore, capture excellent footage for the "Duckmen" DVD series. Previously, he videoed footage for "Benelli Presents Duck Commander" TV show.
Jep continues with the goal his father began years ago, to bring the "Duckmen style" of hunting out of the swamps, into the editing room, and into the homes of duck hunting enthusiasts around the world. Making his film debut in "Duckmen X" stoked Jep's passion for capturing his family's hunts on camera. That title remains his favorite Duckmen DVD to date. Jep and his family also star in A&E's hit Series, "Duck Dynasty." Jep resides in West Monroe, Louisiana, with his wife, Jessica, and their five children: Lily, Merritt, Priscilla, River, and Jules. Jules is his adopted son. Birthday: May 28, 1978 (age 39) His children:
Lily Robertson: December 27, 2002 (age 14)
Merritt Robertson: July 30, 2004 (age 13)
Priscilla Robertson: August 4, 2006 (age 11)
River Robertson: December 5, 2008 (age 8)
Jules: Born in 2015.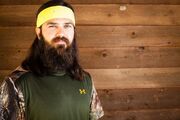 Ad blocker interference detected!
Wikia is a free-to-use site that makes money from advertising. We have a modified experience for viewers using ad blockers

Wikia is not accessible if you've made further modifications. Remove the custom ad blocker rule(s) and the page will load as expected.