The wife of the youngest son of Phil and Kay Robertson, Jules Jeptha "Jep" Robertson, Jessica fits right in with the family. As a child, she grew up hunting on the weekends with her father in the woods of Louisiana. She first met Jep in 2001 and they were married within two weeks of announcing their engagement. Jessica also has a business background like many in the Robertson family, but not from working at Duck Commander. She previously worked in real estate as a licensed real estate agent, and most recently worked in sales. Jep and Jessica are proud parents of 4 children: Lily, Merritt, Priscilla, River, and Jules. Jules is her adopted son. Birthday: November 12, 1980 (age 36)
Her children:
Lily Robertson: December 27, 2002 (age 14)
Merritt Robertson: July 30, 2004 (age 13)
Priscilla Robertson: August 4, 2006 (age 11)
River Robertson: December 5, 2008 (age 8)
Jules: Born in 2015.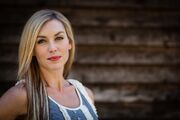 Ad blocker interference detected!
Wikia is a free-to-use site that makes money from advertising. We have a modified experience for viewers using ad blockers

Wikia is not accessible if you've made further modifications. Remove the custom ad blocker rule(s) and the page will load as expected.