John Luke Robertson, the oldest son of Korie and Willie Robertson has grown up on the hit reality television series Duck Dynasty. Over three million viewers watched as John Luke married his beautiful bride, Mary Kate McEachern in June of 2015. They currently attend Liberty University in Lynchburg, Virginia where John Luke is doing his undergraduate work in Camping Outdoor and Adventure Leadership. Growing up John Luke spent his summers working at Camp Ch-Yo-Ca, a Christian youth camp his great-grandfather started in 1967, as well as doing various mission efforts around the world. His first business venture is the famous snow ball stand in front of the Duck Commander warehouse "John Luke and Willie's Ice Cabin." John Luke speaks at various events around the country sharing his passion for his faith and for living life to the fullest. He is the author of a four-book juvenile fiction series, Be your Own Duck Commander and writes on his blog youngandbeardless.com. His new book Young and Beardless, releases May 17, 2016. You can follow him on Instagram @youngandbeardless and twitter @john316luke923.
Birthday: 10-11-95
Hobby: Wrecking things
Favorite celebrity: Rebecca Lo-Robertson
Do you have any Tattoos? I wish
Favorite Color: Greenish blue eyes
Favorite TV show: Duck Dynasty
Favorite book: The Bible with The Hobbit in second
Favorite bible verse: John 3:16 and Luke 9:23
Most Influential person: Bob Goff
What is one word your best friend would use to describe you? "Sure"
What's one thing you want your fans to know? I'm not as dumb as I look
Weirdest thing that has ever happened when signing autographs? One of my friends almost got tazed for slapping my butt.
Strangest gift someone has given you? Voodoo doll from a fan (I left it on table where she put it)
What do you want to do after Duck Dynasty? Probably look for another job.
Favorite sport to play? Tennis
Favorite sport to watch? USA playing soccer
Favorite holiday: Thanksgiving
Family traditions: Beach trip
What type of music do you listen to? The good kind
Birthday: October 11, 1995 (age 21)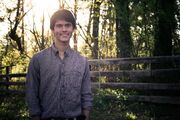 Ad blocker interference detected!
Wikia is a free-to-use site that makes money from advertising. We have a modified experience for viewers using ad blockers

Wikia is not accessible if you've made further modifications. Remove the custom ad blocker rule(s) and the page will load as expected.