Justin Martin began working for Duck Commander in 2008. He, along with Jase and John Godwin, build duck calls for the company. Phil gave him a series of nicknames until 2010, when one finally stuck – "Friar Tuck." Come duck season, you can find Justin cutting brush and making sure the ducks will not see any of the Duckmen. Justin said, "When you are the youngest, you have to do the work no one else wants to do, which is cutting brush and moving the gear after a long day of duck hunting." Also, due to his size, you will often see him hauling heavy loads. Birthday: August 26, 1985 (age 31)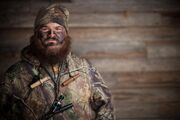 Ad blocker interference detected!
Wikia is a free-to-use site that makes money from advertising. We have a modified experience for viewers using ad blockers

Wikia is not accessible if you've made further modifications. Remove the custom ad blocker rule(s) and the page will load as expected.