Priscilla Robertson is third of four children born to parents Jessica and Jep Robertson of Duck Dynasty fame. She is not regularly featured on the popular reality show. Her parents had a spin-off show called Jep and Jessica: Growing the Dynasty. She has three biological siblings named Lily, Merritt and River, and an adopted brother named Jules.
Birthday: August 4, 2006 (age 11)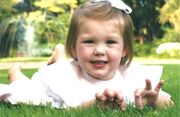 Full name: Priscilla June Robertson
Ad blocker interference detected!
Wikia is a free-to-use site that makes money from advertising. We have a modified experience for viewers using ad blockers

Wikia is not accessible if you've made further modifications. Remove the custom ad blocker rule(s) and the page will load as expected.