Rebecca Robertson is a member of the famous Robertson family that gained fame on the hit A&E show Duck Dynasty, she worked as a wardrobe stylist in Los Angeles before opening up a clothing boutique called Duck & Dressing in Louisiana. She spent a lot of her childhood in Taipei, Taiwan but moved back to the States when she was 16 years old. She graduated from Louisiana State University with a degree in Apparel Design in 2012. She is the daughter of Willie and Korie Robertson. She has four siblings: Bella, John Luke, Sadie and Lil Will. On New Year's Eve 2015 she became engaged to John Reed.
Birthday: October 17, 1988 (age 28)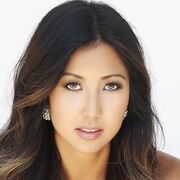 Ad blocker interference detected!
Wikia is a free-to-use site that makes money from advertising. We have a modified experience for viewers using ad blockers

Wikia is not accessible if you've made further modifications. Remove the custom ad blocker rule(s) and the page will load as expected.