River Robertson is member of the famous Robertson family that stars in Duck Dynasty. He is the son of Jep and Jessica Robertson. He loves building Legos, playing video games, and riding scooters. His siblings are Lily, Merritt, Priscilla and Jules.
Birthday: December 5, 2008 (age 8)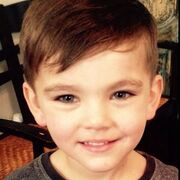 Full name: River Alexander
Ad blocker interference detected!
Wikia is a free-to-use site that makes money from advertising. We have a modified experience for viewers using ad blockers

Wikia is not accessible if you've made further modifications. Remove the custom ad blocker rule(s) and the page will load as expected.