Rowdy Robertson is the adopted son of Willie Robertson and Korie Robertson. He joined the Robertson clan in May of 2016, and was officially adopted in September of that year.He is the 3rd child of Willie and Korie to be adopted. He, Will and Rebecca Robertson are adopted members of the Robertson family of Duck Dynasty.
Born on December 10, 2002 (age 14)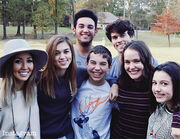 Ad blocker interference detected!
Wikia is a free-to-use site that makes money from advertising. We have a modified experience for viewers using ad blockers

Wikia is not accessible if you've made further modifications. Remove the custom ad blocker rule(s) and the page will load as expected.