Businessman, outdoorsman, hunter, speaker and author – Willie Robertson is best known as the CEO of Duck Commander on A&E's Duck Dynasty. Duck Commander is not only the brand of the best-selling duck call in the United States, but also a popular trademark for apparel, hunting gear, wine, foods, spices and more. Willie has expanded the family company from a living room operation to a multi-million dollar enterprise and into a premiere destination for all things outdoors including Buck Commander, Fin Commander, Strut Commander and Duck Commander Family Foods.
As the executive producer of Duck Dynasty on A&E and Buck Commander on Outdoor Channel, Willie is able to combine his passion for the outdoors with his natural ability to entertain. While the Robertsons' story is a great example of entrepreneurship and dedication, it is at its core built on faith and family. Willie is a New York Times best selling author of The Duck Commander Family: How Faith Family and Ducks built a Dynasty, American Hunter and American Fisherman, and he along with his family, have a platinum selling Christmas album Duck The Halls. Willie and Korie along with their children live in West Monroe, La.
Children Not Listed: Bella Robertson: September 16, 2002 (age 14)
Will Robertson: November 8, 2001 (age 15)
Rebecca Robertson: October 17, 1988 (age 28)
Birthday: April 22, 1972 (age 45)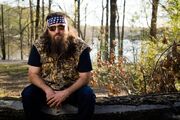 Ad blocker interference detected!
Wikia is a free-to-use site that makes money from advertising. We have a modified experience for viewers using ad blockers

Wikia is not accessible if you've made further modifications. Remove the custom ad blocker rule(s) and the page will load as expected.